The Cavalier King Charles Spaniel


Our dogs are considered family members and spend much of their day with us in the home or outside. The Cavaliers have a safe fenced in yard area in which to play and run as they have a very strong chase instinct for anything that moves (birds, moths etc.) They are happy characters and love to be around people. One of their favorite activities is to go walking with their people and then to rest up on the couch. They are plucky little dogs with a lot of heart. Puppies are raised in our home and are given a great deal of care and attention. This proper socialization is very important and enables our pups to become well adjusted and happy outgoing adults.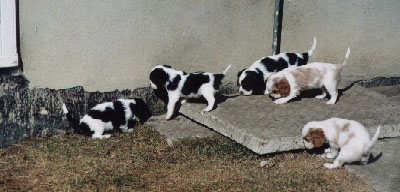 Our puppies are carefully handled by children and adults from the minute they are born. Notes are taken of each puppies progress, ie. eating habits, interaction skills, character, status, etc. When their eyes and ears open they begin to explore their world and we provide planned stimuli for them; such as music, engine and vacuum cleaner noise, and toys of different shapes and sizes. At three or four weeks of age they are introduced to the outside world (weather permitting). The puppies are also taken for individual car rides and start to play games. They are introduced to crates to ensure easy housetraining for their new family. All puppies are tattooed, vaccinated, wormed and health checked by a veterinarian before they leave our home. You will receive a puppy care information packet and pedigree when you pick up your puppy.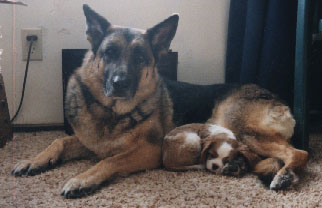 Pups are registered with the Canadian Kennel Club and individual papers are usually in your hands by the time your pup is six months old. Our puppies are placed in loving and caring homes that bring joy to both the people and the dog. Your Cavalier puppy will get to socialize with our dogs plus have the advantage of starting housetraining and experience positive training for good manners. I have operated a dog obedience school for over 25 years and I use my expertise to guide our puppies so they develop good manners. This makes it easier for their new owners to deal with their puppies and they can continue this positive training quite easily.
The Cavalier King Charles Spaniel is a much admired Royal Spaniel having been known in Europe and Great Britain since the 16th century, descending from the Toy Spaniels of Europe. Packs of the little dogs are said to have been kept by members of the nobility as sporting dogs possessing a highly developed scenting capacity and enjoying nothing better than wading in water. As lap dogs they were popular with the ladies who used them as comforters by lying them on their stomachs or feet as warmers during their long carriage journeys, thereby being know as the "comforter" or "Spaniel Gentle".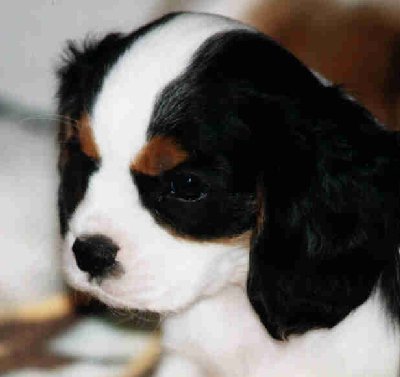 8 week old Tri-Color Puppy


They first appeared in the courts of England with the reign of Queen Mary I. The breed which appears in many of the great paintings by the Masters, received its name from King Charles II who was always surrounded by the Royal Spaniels.

The original toys spaniels became virtually extinct in the Victorian and Edwardian eras as short nosed breeds took the fore. By 1923, the King Charles Spaniel (todays English Toy), with its flat nose, had replaced the old type Toy Spaniel.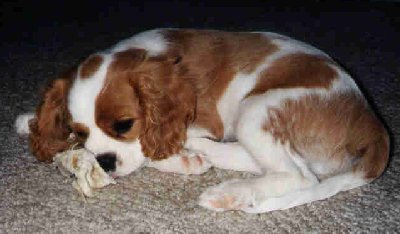 3 month old blenheim puppy
In 1926 the incentive for the revitalization of the old-type Toy Spaniel was provided by Mr. Roswell Eldridge, an American, who offered prizes of 25 pounds for the Best Dog and Best Bitch of this type at the world famous "Crufts" dog show in England.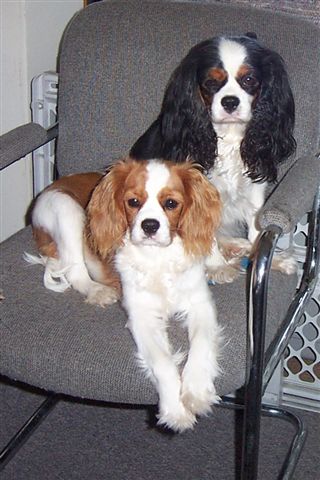 Mother and daughter. "Sky" (4 years) and "Eah" (7 months)
The name Cavalier was added when the Cavalier King Charles Spaniel Club was founded in 1928 to further develop the breed. It was not until 1945 that The Kennel Club (England) granted seperate registration from the King Charles Spaniel. A year later the club held its first Championship Show at Stratford-on-Avon. The popularity of these companion dogs had spread around the world and in 1957 the breed gained Canadian Kennel Club recognition.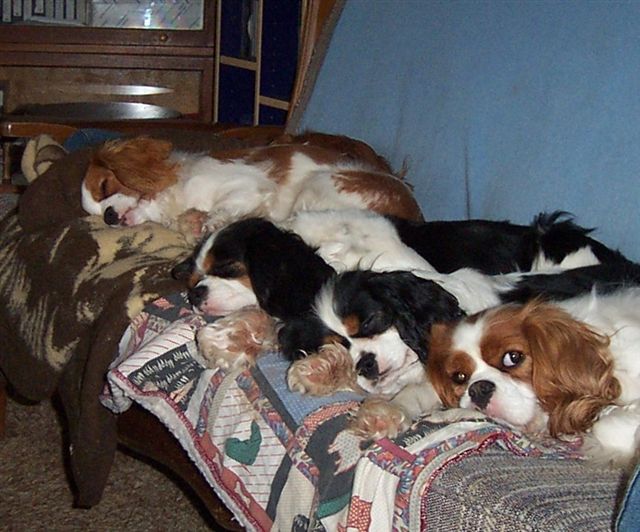 "Good thing the couch is big enough!"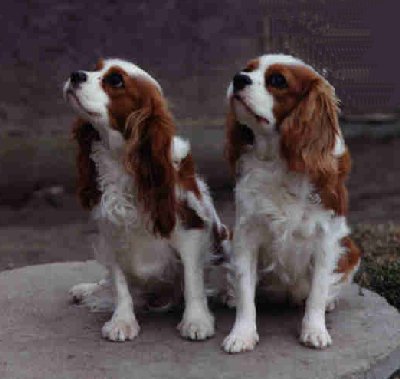 "Abbey" and her daughter "Locket"
CLICK HERE TO RETURN HOME